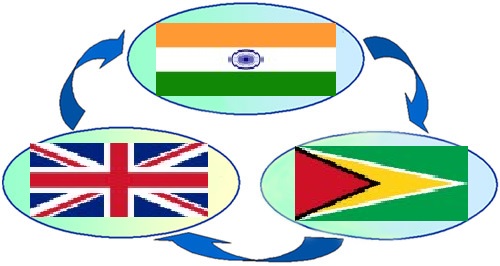 RECYCLING A SON OF THE BRITISH RAJ - INDIA - GUYANA - UNITED KINGDOM
Review by the Rev.Canon John Twisleton - Anglican Diocese of Guyana 1st August 2015
We live in a 'connected' age where people's connections impact the world as well as one another not least through electronic media. Some lives speak eloquently of connection and Peter Ramrayka's is such. His life story links Guyana, Britain and India as well as shedding light on the NHS, the Guyana diaspora, race relations and UK politics. It is a good read, well written and illustrated and though centring on one life opens windows on much besides.
Guyana often seems the forgotten one among Britain's former colonies. I was delighted therefore to read, as former theological educator there and Canon of St George's Cathedral, a book that puts the former British Guiana back on our map. Ramrayka's illustrious career is not untypical of the Guyana diaspora I engage with and it is notable for ongoing service he gives to the land of his birth. The grandson of indentured Indian labourers who moved from east to west across the former British empire to run the sugar cane and rice fields when slavery ended, the author describes his move the other way back to Britain in 1961 and then briefly to engage with the India of his ancestors. This is the origin of the title Recycling a Son of the British Raj.
The hub of the 'cycle' is a career in healthcare management consultancy built in the UK after his migration in 1961. From that expertise Peter continues in service to Guyana and other former British colonies and has chosen to write up his life now past the biblical lifespan of 70. It is a life woven into the multi-cultural fabric of Britain yet faithful to his Indian background and the patrimony of the Guyanese. On his move to England he experienced racial discrimination which was the lot of many Caribbean migrants. Joining the Royal Air Force shielded him from the worst of this. 'I plumped for being a medical orderly. I felt it would be a relatively safe bet, after all, hopefully I would not be killing anyone and, rather grandly, I also thought I would be following the footsteps of one of my great heroes, Mahatma Gandhi who had served as a nursing assistant for the British in the South African Boer War… Years later I reflected on how such a profound decision was taken, at such a relatively young age, without any great thought about future consequences'.
Those consequences include his prominent role in the National Health Service where he associates himself with 'the considerable improvements in healthcare and the health and wellbeing of citizens' in recent years. Gandhi is his hero and the visit Peter made to India in 1997, when working as a British healthcare management consultant with the Pakistan's health service, to Gandhi's cremation site and the Birla Temple he inaugurated open to non-Hindus is high point in the book's narrative. There is a Gandhi-style speaking of truth to power throughout the book which doesn't gloss over the self-interest of the UK and the US and the need for more balance at the UN through involving nations like India, Nigeria and Brazil. As a youth Ramrayka witnessed the British warship arriving in Georgetown, the capital of Guyana, to depose the first elected Premier, Cheddi Jagan in 1953, and troops mistaking red Hindu prayer flags for Communist flags! Free and fair elections restored Jagan to power as late as 1992 ending a dark period which was partly a legacy of British imperialism. Ramrayka's brief history of Guyana is well written and fair and sensitive in treating the tension between the main African and Indian ethnic groupings there.
As a leading member of the Liberal Democrats in south London Peter was actively involved with the party's policies and views on the NHS which became a major prong of their 2015 election campaign, notably on mental health. Peter explains the need for parity of esteem for mental health patients a disproportionate number of whom are of African or Afro-Caribbean background. The theme of social justice runs right through this fascinating autobiography which sheds light on race relations, international relations and best management of resources for healthcare worldwide as well as on Guyana and the impact of its diaspora.
============================================================================================================================
Review by Bob Jeffries - I.T. Expert/ NHS Manager/ Business Graduate/ Volunteer ( Royal Air Force contemporary and Friend) - 26h July, 2015
I have just finished reading your book which I found very interesting.
Inevitably I could associate more with the first half (or more) of the book as it had more resonance with the experiences I have had over the years.
It was a good read and Basdeo was a help in ensuring you stayed on track and explained those areas that may be unfamiliar to some readers. The early chapters also provided an insight into the Hindu culture, an area sadly lacking in my knowledge base.
You have certainly had a varied and fascinating career – a major achievement for anyone, not just a young "Son of the British Raj".In the tailpiece of the book you mention the pride you have in helping people throughout the world. This is much deserved as I often mention you to friend and family who ask how I escaped from being a simple London lad destined to become a cab driver or barrow boy. The chance meeting, one spring day, on a No 27 bus out of Archway rekindled a friendship that has had an enduring effect of my life. Without that meeting I would not have studied to get a business qualification, I would not have had a short but eventful career in the NHS and I would not have met Candy (the light of my life)......".
==============================================================================================================================
Review by Jennifer H. Robinson , Author - The Many Lives of Marilena Pappas - Friend - Cumbria - England - July, 2015
I have just finished reading your autobiography; cleverly entitled 'Recycling a Son of the British Raj'. What can I say? I'm awe inspired by the multi-talented facets of your career, your modesty proceeds you Peter. Your inspirational skills, as you journeyed around the globe, many of which I remember. Might I say, any government would be well advised to have you as Health Minister, we might then see the light at the end of a long dark tunnel of mis-management so to speak. You led such a full and enriched life, giving of your skills for the good not only this country but many others.
I found your life story fascinating Peter; the Indian ancestry of your forefathers, shown in great detail, the poignancy of your arrival in England, your early struggles, the racism, and your career in the RAF. I think it was obvious to me as a reader you were destined for great things, and should be proud of your achievements. The whole story was to my mind so rich and colourful. The photographs a wonderful record; by the way, I loved the beard it suited you!
I also thought the style in which you brought in the mischievous invisible spirit, the Bacoo, Basdeo, in the bottle you related to, was a touch of genius. The way it was themed throughout the book, i.e. him questioning you commenting, was a delight, adding a light-hearted and fascinating aspect to the many detailed passages, some of which I found of great interest, concerning the PFI etc……your book tweaked at my senses, my memories…my grandfather was born in a tented camp within sight of the Taj Mahal………my great grandfather was in the army and posted to India………my grandmother was proud to have the three services in her family during wartime. Aunt May a Wren, Uncle Alan a Spitfire pilot and my father in the Army…….Also I forgot to say on the front cover of the book……you look like the opera singer Andrea Bocelli…..hope you are flattered as he is very handsome
==============================================================================================================================
Review by Aylia Fox – Author, former newspaper Editor, national Newspaper Journalist and now Qualified Personal Trainer - September 2015
SOME people have led more interesting lives than others – Peter Ramrayka is one such person and he's been good enough to put it all down on paper.
The result is a fascinating book called 'Reycling a Son of the British Raj' and tells the story of how a Guyanese Indian boy brought up in the tropics makes it to the top of his chosen profession in Britain.
But his journey was not all plain sailing. Far from it. Over a period of more than half a century Peter encountered issues of race, religion, colour, culture and creed that would hold back most of us. But his indentured Indian labourer ancestry had instilled in him a sense of steely determination which meant it was only a matter of time before his achievements surpassed his ambitions.
The book is an autobiography in the sense that we learn about Peter's professional life chronologically. He arrived in London from British Guiana, South America, via a ship in 1961 – the year the Berlin Wall went up. He harboured ideas of becoming a lawyer but joined the medical branch of the RAF instead because he needed the money. Fast forward nine years and he joins the National Health Service as an administrator. It is not long before he becomes the first ever person of Asian descent to be appointed to a Chief Administrator's post in a district health authority.
As his interests broaden, so too does his experiences – many of them overseas. One of his jobs was leading a flying hospital which travelled to third world countries helping restore people's sight. Another involved masterminding the building of a new hospital in Botswana. We have these phases of his life described to us in the book with wit, candour and a plethora of opinions. No mistake, Peter Ramrayka is a man with something to say and as the book progresses and we get to know him better, we feel inclined to agree with many of his views.
This book is interesting – even if you're not interested in the specifics of Peter's profession. It's interesting because Peter's interesting and he writes in an interesting and down to earth way. For example, there is an on-going text dialogue with a chirpy mythological creature called Basdeo which keeps you entertained throughout.
If I was pushed to come up with a criticism of the book, the only thing I would say is that it's a shame we don't learn anything of Peter's private life. If it's as colourful as his professional life, we'd been in for a real treat!
In conclusion, Recycling a Son of the British Raj – which contains numerous beautiful photographs – should be read. It's an education for anyone who ever had a dream
============================================================================================================================
Review by Mike Tuffrey, Director and co-founder Corporate Citizenship, Leading London Liberal Democrat (currently Chair – Liberal Democrats London Region Executive, former Councillor, London Assembly member and Leader of LD group, chairing various GLA groups) – October, 2015
My personal connection with Peter is through our involvement in London politics, latterly serving together on the executive committee of the London Liberal Democrats. As so often in life, you know someone through one aspect - perhaps as a colleague at work, or a neighbour in the street, or a fellow parent at the school gate - and simply don't know their back-story.
And what wonderful story Peter's is. From childhood in then British Guiana, a long ocean passage to Europe, a varied progression in the RAF and thence to a career in our brilliant and at times baffling NHS, moving on to a burst of entrepreneurialism with consultancies in four countries, and latterly a very modern 'portfolio', as Charles Handy dubbed modern working in his book, The Age of Unreason (raising an awkward question about whether these days one ever actually retires).
But books about fascinating life stories like Peter's are more than just a great read, and his certainly is that. They also let us see connections in our own lives and inspire us to reflect on the choices we made, the chances we seized, the good fortune we've enjoyed, and the activities we still undertake.
A few months ago, I was sitting with Peter in a gathering of south London LibDem members and supporters, discussing the challenges of living in our great capital city and how we can campaign to improve things. I reflected that my family had moved just five miles around south London in four generations, while his had travelled 9,000 from India to Guyana and then 5,000 to London. And yet here we were, united in our shared concern for our fellow citizens, working on ways to better our communities.
he lesson is surely that, regardless of how far one travels and how different are one's experiences, we have so much more in common than what divides us or sets us apart - a powerful point for these troubled times.
Thank you to Peter and his book for reminding us of this simple lesson for humanity
==============================================================================================================================
Review by Lewisham Pensioners' Gazette – Autumn 2015 page 13
"……Recycling a Son of the British Raj is particularly unusual as the author was aware that his life straddled many countries and cultural environments, in particular his professional life.
To make the book understandable to different audiences he devised a process whereby a dialogue with a Bacoo, a Guyanese poltergeist, called Basdeo, was used when appropriate explanations were felt to be needed!.
The book is well worth a read and is a good contemporary record of a journey, 40 years of which were spent in and around South London, from one culture to another, examples of overcoming racial and cultural barriers, the confidence an individual gets from being proud of his cultural background and the satisfaction from a life of public service"
==============================================================================================================================
Review by Tom Barton – Director T.T.B Consulting (London) Limited, former Deputy Regional Manager – Sir Robert McAlpine – September 2015
"I enjoyed reading your book and found it very fascinating. What you would not know is that in a sense I am a child of the British Raj but from the other end of the spectrum. My grandfather was in the Indian Civil Service albeit in Burma, my Grandmother risked sailing in U Boat infested seas to sail from Glasgow to Rangoon in 1916,.my Father also went to Burma as part of the colonial service where he met my Mother. My wife and I visited Burma last year and it was fascinating. More recently a younger cousin of mine went to work as a young doctor at a Jesuit Hospital in Guyana……….Anyway, I really enjoyed your book"
=============================================================================================================================
Review by John Fraser – Production Director, Berkley Homes Limited former Project Manager, Integrated Health Projects (IHP) – September, 2015
"Just to let you know I read and enjoyed your book whilst I was away over the last 2 weeks! I had no idea you were involved in so much healthcare activity abroad and that you had ongoing involvement with the RAF, as well as your activities with the Lib Dems. Enjoyed reading about our Phoenix Unit project and our trip to Canada as well - very fond memories! A very belated Happy Birthday for your 70th as well by the way. All the best and try not to do too much - looks like you still have a lot going on!...."
=============================================================================================================================
R
I suspect the British patients who deal with doctors, nurses and other National Health Service staff from the Commonwealth rarely consider the journeys those people have made. I don't mean just the physical move, though that may be from the other side of the world. I am thinking more about the culture shock. Working in Britain must be for many overseas NHS workers as much of a challenge as an opportunity. So it is interesting to have one man's considered view of his own journey: Peter Ramrayka's Recycling a Son of the British Raj (Hansib, £13.99), in his case arriving from what used to British Guiana in South America, now Guyana, with the added twist that being ethnically Indian, the author has roots that go back to the Indian sub-continent. As a child he was taught to think of Britain as the Mother Country and he followed his brother's lead in moving here and then joining the Royal Air Force. A posting to Cyprus gave him the opportunity to travel in the Middle East, but the major part of his career was spent in hospital management and management consultancy, based in the UK but sometimes travelling on assignment to other countries including Botswana and Pakistan. For me the travelogue passages were more engaging than some of the detail of various hospital closures in south east London and north west Kent, though doubtless the latter would appeal more to fellow NHS workers, past and present. The author uses the unusual device of having an imaginary companion
Hello Peter, good to see you the other day. I found your book very informative...not many know about the RAF and all your significant work in the Health Service, so it was excellent to record these.The early chapters on village life were fascinating, but I wished for more...more stories, characters, incidents...Maybe in the revised edition?
Warmest best wishes,
David
Professor David Dabydeen
Office of the Vice Chancellor and President
University House
University of Warwick
Coventry CV4 7AL
England